Beyond Nature_Organisms Republic_Berlin
The anthropocentric world system has been overcome. All living beings from Snails and Chestnut Trees right up to Root Tubercle Bacteria share the same political rights with humans.
An ecosystem is transformed into Organisms Republic: political experiment, durational performance, audio drama.
Relevant documents:
Universal Declaration of Organisms Rights
Constitution Vienna
Constitution Berlin
NEXT:
3. November 2019 - 20:00 1st Session of the Constitutional Court of Organisms Republic_Berlin
Location: Ballhaus Ost , Pappelallee 15, 10437 Berlin, in German and English
tickets here
We are delighted to announce our participatory performance "Constitutional Court of Organisms Republic" at Ballhaus Ost.
Be part of our jury and help us to dispense justice on the territory of Organisms Republic!
→→→→→→→→→→→→→→→→→→→→→→→→→→→→→→→→→→→→→→→→→→→
The CONSTITUTIONAL COURT OF ORGANISMS REPUBLIC is the third part of the performative process at the heart of a newly created form of democracy. The audience plays the central role of the jury and decides at the end of the immersive performance evening together on two filed lawsuits: The group of herbs, grasses and perennials requires compensation for systematic discrimination and further repression in an already very difficult location for them (too shady), and the organisms group of mollusks and worms complains against the loss of damp habitats by the removal of plastic waste by the executive.
Performance in German and English.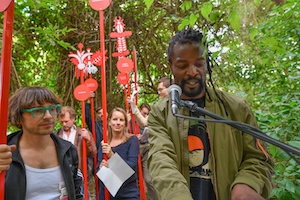 Joseph Jelemani represents the Sycamore Maple Tree at the 1st Session of the Organisms Parliament. Photo: Brygida Naimo - Kowalska
Club Real: Marianne Ramsay-Sonneck, Paz Ponce, Georg Reinhardt, Mathias Lenz
Audio Drama: David Lindemann (text and direction) Aurelie Richards and Anna Brooks-Beckmann (voices)
Instrumental Improvisation: Silke Lange
Ecological counseling/Representation of the organisms - citizens:
Evgenia Chetvertkowa, Carolin Geisler, Aurelie Richards, Rene Jarling, Joseph Jelemani, Johannes Kraak, Heiner Schücker
After one year of Organisms Republic in Vienna Volksherrschaft im Garten Wien and the invitation to the showcase of Impulse Theatre Festival we are now in the first legislative period in Berlin.
Project by Club Real, funded by the Berliner Senate Department for Culture and Europe, cross-disciplinary funds. In cooperation with Ballhaus Ost, Bibliothek am Luisenbad und brut Wien. With the friendly support of the department for arts, culture and history of Kulturamt Mitte.
CHRONICLE:
29. September 2019 - starting 11:00 First Day of the Garden Executive Berlin The decisions taken during the first session of parliament, such as f.i. watering the area and planting new trees as well as a rare fern specimen from Georgia are carried out by the Garden Executive.
Location: Organisms Republic, Osloer Str. between No107 and No108, 13359 Berlin, in German and English, free entry
8th. September 2019 - starting 16:00 Opening and 1st Session of Parliament of Organisms Republic_Berlin
Location: Organisms Republic, Osloer Str. between No107 and No108, 13359 Berlin, in German and English, free entry
Programme and Agenda for Session of Parliament
more information and photos on the German webpage here:
http://www.clubreal.de/jdnberlin/