The artists group Club Real was founded in 2000 and has been devising and realising participatory site-specific projects since: Installations, one-to-one encounters, political role play scenarios and participatory urban development projects invite visitors to help shape alternative concepts of reality.
Club Real's works include the performative installation 'Der Berg' (2005) and the cultural practice 'Das Ahnenamt' in the former Palast der Republik in Berlin as well as a museum of Islamic- Austrian relations in Vienna ('Geliebter Feind', 2010). In Plovdiv they transformed the ruins of a failed investment in a shopping centre into the location for a horror novel (2010). In Frankfurt (Oder) and Słubice Club Real devised practices for collective art production in the project 'Folkstheater / Teatr Ludowy' (2015–2017). And in 2018 they published the book 'Partizipation Stadt Theater' about the project in Frankfurt (Oder) and Słubice at the Publishing house Theater der Zeit.
In 2019 they devised and carried out a series of participatory events about the complete works of Rosa Luxemburg (Reading Rosa) and participated in the 13th Bienal de la Habana with the interactive performance installation LASA10CARNAVAL. And the project "Beyond Nature_Organisms Republic" has been shown in Vienna in 2018/2019, is currently ongoing in Berlin and has also been invited to be part of the showcase 2018 of the "Impulse Theatre Festival".
Active members are currently: Marianne Ramsay - Sonneck, Paz Ponce, Georg Reinhardt, Mathias Lenz, David Lindemann.
Associated member include: Thomas Hauck, Silke Lange, Tuire Tuomisto
Honorary members are: Monika Hartz (+2019) and Johann Müller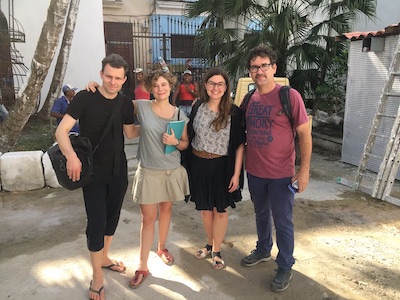 From left to right: Georg Reinhardt, Paz Ponce, Marianne Ramsay - Sonneck with Candelario in Havana, Cuba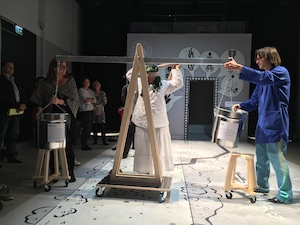 Mathias Lenz to the right, with Flora Schanda in Vienna, Austria